According to the Market Research Future Reports (MRFR), the global logistics market is estimated to expand at Compound Annual Growth Rate (CAGR) of 7.2% during the review period in 2020. The expansion in international trade has augmented the market size, which is no small feat when we consider that the logistics industry is marred by a myriad of inefficient behaviors. Approximately half of the ships are empty upon their return from the delivery destination and this has a detrimental impact on industrial productivity.
It is without question that the logistics industry is heavily reliant on back-office operations which tackle a range of crucial tasks, including scheduling shipments & deliveries, monitoring changes, handling exceptions and, most importantly, ensuring customer satisfaction.
Completion of these important tasks requires almost all back-office employees to conduct manual and repetitive processes via computer software and applications. This no longer has to be the case as Laiye UiBot, the leading RPA product in Asia, offers a more convenient and efficient way to handle these jobs. By streamlining the workflow, it not only reduces the overall operating costs but also greatly improves operational efficiency.
Which common processes in the logistics industry can be automated with the help of Laiye UiBot?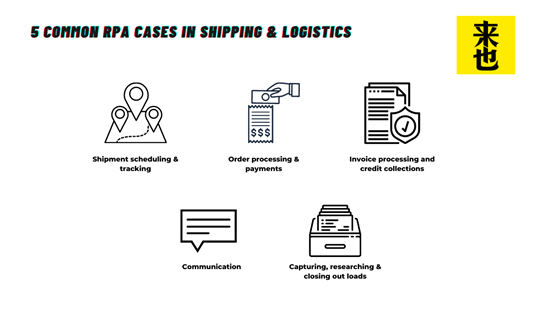 Shipment Scheduling and Tracking:
Laiye UiBot can automate a wide variety of tasks, ranging from the initial pick-up request to ongoing shipment tracking and the final delivery notifications. Laiye UiBot is also able to automatically extract shipment information from incoming emails and improve the accuracy of delivery estimates.
Order Processing & Payments:
Order processing is often accompanied by additional tasks such as manual entry of customer information into databases, processing payments, and issuing confirmation emails of order updates.
Invoicing processing and credit collections:
Receiving payment after completion of a task is not always straightforward due to multiple systems and steps that must be undertaken beforehand. However, Laiye UiBot can easily merge the systems to facilitate a speedier process.
Communication:
Effective and prompt communication with customers is absolutely essential for logistics businesses that aim to build and maintain customer loyalty. Laiye UiBot can help in this regard by automatically sending notifications through the system to let customers know when an order is processed, shipped, or delayed.
Capturing, researching and closing out loads:
Working with third party carriers and suppliers, e.g. using couriers for less-than-load(LTL) shipments, is certainly an advancement towards expanding your business, but it comes with a cost: the need to track multiple systems. This cost is minimised by use of Laiye UiBot, which can automatically scan the carrier's website and capture PRO numbers, or invoice amounts, and subsequently close out loads in no time.
Summary
Laiye UiBot is a modern solution to the problems that have been long faced by the shipping and logistics field. Employees can use their skills in areas they are most needed and leave the repetitive jobs for Laiye UiBot. By working in such an intelligent manner, there will be increased productivity and operational efficiency, while greatly reducing costs.
About Laiye
Laiye, founded in 2015 by Ivy League Ph.D. graduates, is committed to being a leading Smart Robot platform with global influence in the era of human-robot collaboration. Our portfolio of high-quality, secure products and services covers RPA+AI Solution, including Laiye UiBot (An RPA product), Wulai (An enterprise chatbot platform), and Xiaolai (A companion robot). Join us on LinkedIn, follow us on Facebook, or visit us at laiye.com/en.