Many enterprises will distinctively remember the horrific time when businesses around the world were faced with a flood of unprecedented challenges brought by the infamous Covid-19. All of a sudden and without warning, organizations were bombarded with a range of measures to implement while, at the same time, needed to re-strategize to ensure business continuity. While the pandemic continues to disrupt lives, it would appear we are reaching the light at the end of the tunnel – the UK has recently released the COVID-19 vaccine to the public, bringing a glimmer of hope to individuals and enterprises worldwide. It's important, however, that we recognize our step into the new normal – and it's unlikely we will ever return to the pre-pandemic way of work. In this key transitional period, many organizations in different sectors are turning to RPA bots to 'future-proof' themselves by ensuring they not only fully recover from the detrimental effects of the pandemic, but also prepare for any future challenges.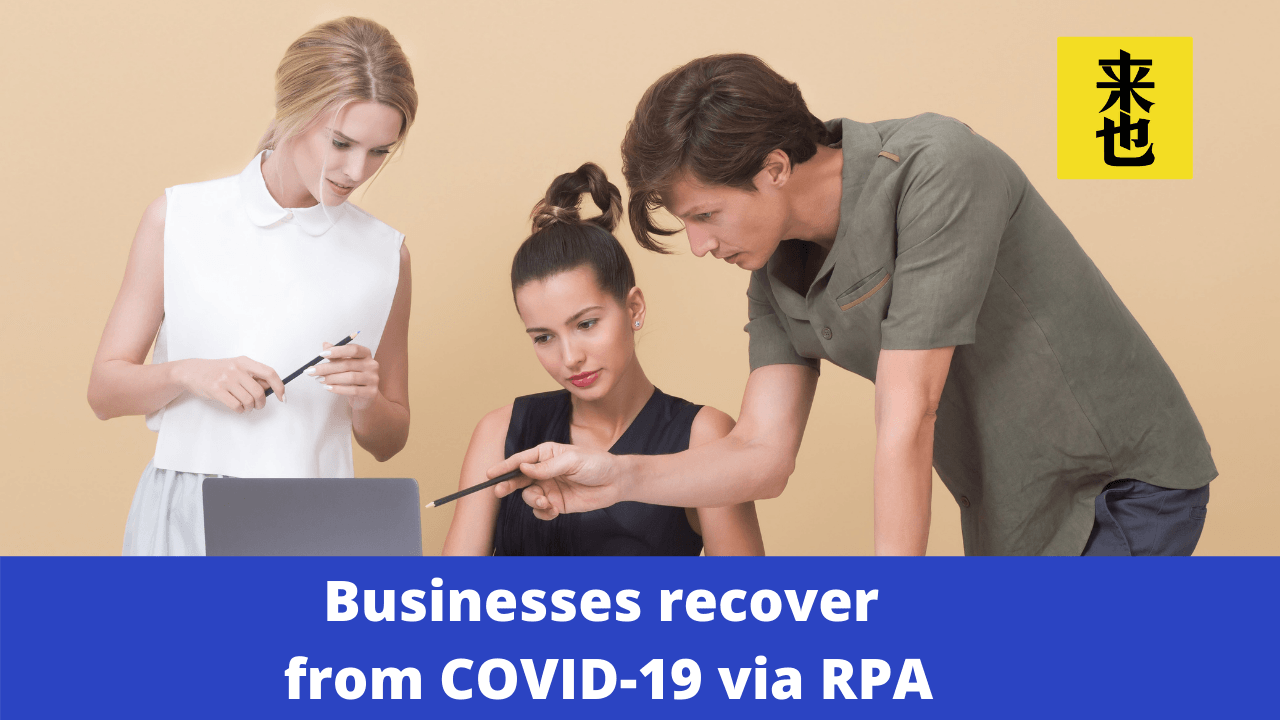 Banks enhance customer service
After lockdowns and quarantines, banks will find themselves swamped with a long list of customer queries that will undoubtedly overwhelm the staff. Anticipating this, major banks have already incorporated RPA to swiftly and efficiently handle requests in order to not only assist the staff, but also dramatically raise customer satisfaction rates in these delicate times. RPA solutions can effortlessly resolve low-priority queries such as balance inquiry and free the customer service team to address high-priority issues that require their specific skillset and knowledge, dramatically enhancing customer experience.
Organizations go paperless
The pandemic has shed light on the inefficiencies of a paper-oriented workplace and has accelerated digital transformation in this particular area. Traditional workplaces that relied on piles of paperwork struggled with their operations during the pandemic as many employees had to work from home, and were unable to access information digitally. Whether it was invoices, receipts, bills of audit, or other documents, businesses would have functioned with less of a 'lag' if they had been entirely paperless. Realizing the value of a paperless system, many enterprises are now efficiently digitizing their databases through RPA solutions with OCR functionality, which works by extracting data from business documents and processing it on to an electronic database.
Businesses save costs with a digital workforce
Pandemic has stunted business growth, which means many organizations must be cautious with the way they spend their limited funds. As businesses prepare themselves for a post-pandemic work environment, many have opted for a digital workforce over hiring temporary staff to deal with the backlog of work. In addition to the cost benefits, there are other reasons many organizations have made this decision. RPA bots, unlike human staff, are able to swiftly deal with repetitive tasks 24/7 while maintaining high-accuracy rates. The RPA bots offer long term benefits to the business as they can be trained easily to handle any rule-based process, and further use AI capabilities to learn complex tasks.
Logistics becomes more agile
Many logistics companies are re-modeling supply chains so that with the help of RPA, there will be less human contact along with more conformity to the social distancing measures. This would be made possible through contactless delivery and collection, and remote payment options. Furthermore, there have been companies which have implemented an RPA bot to ensure seamless delivery in the COVID-19 climate. The RPA bot runs stockchecks non-stop to ensure medical components can be delivered to locations which need them the most and updates as supplies arrive. Through robotisation, this process was sped from 9 minutes of manual operation to 30 seconds via automation. In total, the robot had saved 350 hours of labour.
Healthcare re-schedules non-urgent appointments
When COVID-19 first struck, there was a surge of cancellations of non-urgent appointment as medical facilities were overwhelmed with emergency requests while also limiting public exposure to the virus. This had created a major backlog since many of the canceled appointments would have to be re-scheduled and communications must be made to those who initially sought a medical session. As we can imagine, there is a significant amount of repetitive, mundane tasks to be done in medical facilities and this is the primary reason why health clinics and other medical facilities have introduced RPA to smooth the process of appointment re-scheduling, ensuring patients are dealt with in a timely manner.
Modernize with RPA
It's already well-known that tech-savvy businesses that implemented RPA before the pandemic suffered significantly less than businesses that had not. The crisis has highlighted the need to equip ourselves with powerful technologies in response to any future challenges. RPA will not only strengthen a company's tech armor and increase its flexibility but also help it recover from the damage already sustained from the crisis.
About Laiye
Founded in 2015, Laiye helps businesses achieve more, reach their full potential, and transform into smarter, more effective, efficient, productive enterprises. Laiye helps businesses and people realize their full potential by optimizing the human-machine collaborative alliance with sophisticated, dynamic, productivity-enhancing digital "workforce solutions". Laiye delivers the deepest, most advanced AI/RPA/NLP solutions to help businesses become more efficient, effective, agile, and successful. And it frees people to focus on meaningful, innovative, mission-critical initiatives.
Core technologies include robotic process automation (RPA), process mining, natural language processing (NLP), conversational intelligence, text recognition, and image recognition.