The insurance industry has been always criticized for the slow pace in service delivery and the low satisfaction rate while being one of the costliest industries in the world. According to the 2020 U.S. Commercial Member Health Plan Study, just 36% of commercial health plan members said their health plan acts in their best interest and just 25% of members said they view their health plan as a trusted partner in their health and wellness.
This slow pace and low satisfaction rate are attributed to the fact that insurance companies always burden their employees with repetitive and operational tasks. This will leave them with no time to deal with skill-based and more value-added tasks such as claims processing, underwriting, and business and process analytics.
In this article, we explain how RPA might transform the insurance industry into a customer-centric industry while reducing the operational costs and increasing the revenue. In addition, improving the employees' productivity will result in enhanced customer experience and increases the number of loyal customers as well.
Faster Claims Processing
A repetitive, manual task is claims processing which requires employees to gather information from various sources. It's a time-consuming task, which delays the prompt response that customers desire when they file a claim. RPA can automate data extraction, collection, and collation to ensure faster processing of claims by gathering data required from multiple sources.
Easier Policy Cancellation
The process of canceling policies is labor-intensive because the employees have to interact with emails, the policy administration system, CRM, Excel, and PDFs. RPA can ease all of these interactions and eliminate the need to move data manually.
Accelerated Underwriting
Underwriting refers to the evaluation of the risks associated with each prospective customer and deciding the price that needs to be charged for insuring the risk. The accuracy of these decisions determines the financial success of the insurance company. A comprehensive risk assessment is a laborious task that requires data collection and evaluation from various sources. RPA bots can automate data collection from internal and external systems and report generation.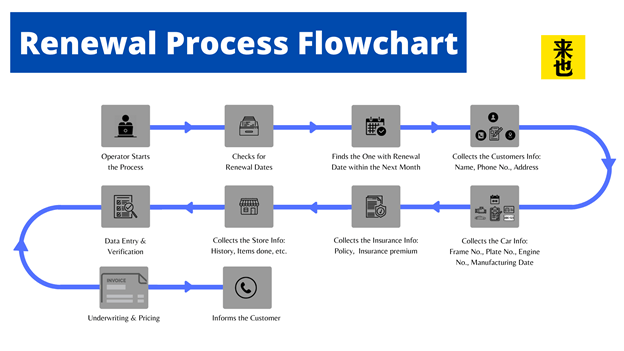 Precise Process Analytics
It's almost impossible to improve a process without proper assessment. RPA can help the insurance companies with process mining as all the tasks and processes handled through RPA will be recorded. This data helps in tracking workflows and improving processes like workload distribution which enhances customer satisfaction and increases operational efficiency. This means significantly less workload on the employees' shoulders, which allows them to focus more on the clients.


Enhanced Customer Service
According to the 2020 U.S. Commercial Member Health Plan Study, more than half (60%) of privately insured U.S. health plan members said they were not contacted by their health plan with guidance or information related to COVID-19. However, the RPA bots can be used for mass mailing services in these circumstances and keep the customers updated. Even more, the robots can manipulate the NLP and chatbots to respond to the customers' queries at any time.


Error-free Compliance
No one can deny the importance of regulatory compliance for protecting business operations. In insurance, documentation and building audit trails must follow strict protocols, which change frequently. Hence the risk of regulatory breaches is a ceaseless threat. However, RPA bots can monitor the compliance and help insurance companies to fare better in case of external audits. Robots can generate reports, send account closure statements to the clients, or validate the data of current clients, all of which ease the burden of compliance.


In Summary
RPA bots can automate several processes including but not limited to data entry, data extraction, compliance maintenance, underwriting, claim processing, and so on. Even more, they can monitor the processes and transactions and output the logs for further analysis and optimization of the current processes and fair distribution of the workload over the employees. This will reduce the costs and increase the revenue in insurance companies while increases the productivity of the employees and speeds up the whole process. Last but not least, it increases customer satisfaction and the number of loyal customers by receiving a prompt response to their requests, providing swift guidance, and responding to their queries instantly using chatbots.
About Laiye

Laiye, founded in 2015 by Ivy League Ph.D. graduates, is committed to being a leading Smart Robot platform with global influence in the era of human-robot collaboration. Our portfolio of high-quality, secure products and services covers RPA+AI Solution, including Laiye UiBot (An RPA product), Wulai (An enterprise chatbot platform), and Xiaolai (A companion robot). Join us on LinkedIn, follow us on Facebook, or visit us at laiye.com/en.