RPA in manufacturing have the potential to help manufacturers to streamline operations, improve productivity, and meet customers' expectations while lowering the costs. RPA is helping manufacturers do more with less.
In addition, manufacturers on a national and global scale are struggling with changing regulations and compliance measures in the areas of finance, health, safety, and waste management. In addition, inventory control, customer communication, procurement, and payment processing are other examples of labor-intensive, manual processes, which are problematic. At the same time, they have to maintain cost reduction and innovative business practices.
In this article, we will discuss a few use cases in which RPA can help manufacturers to overcome these pain points to attain enhanced agility and streamlined operations across the value chain.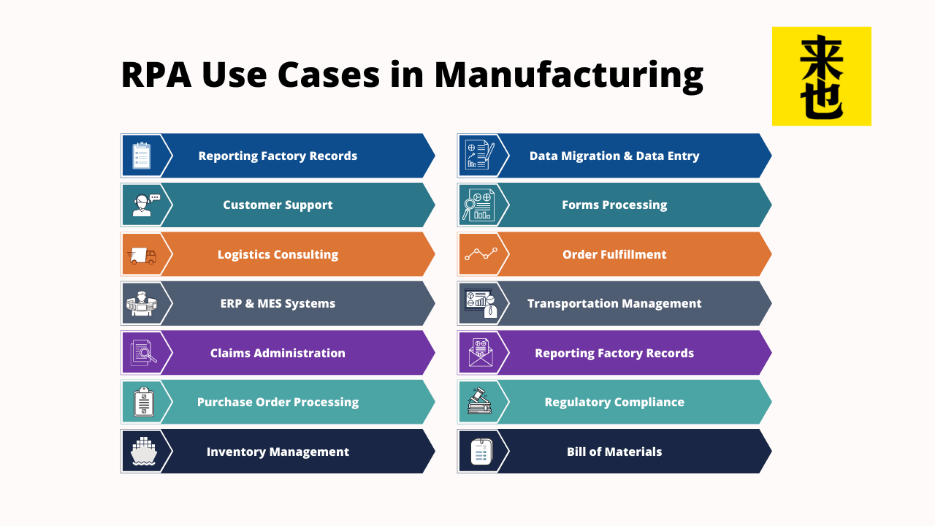 Bill of Materials (BOM) Generation
Without the BOM, it's almost impossible to build a complete and shippable product. BOM comprises a detailed list of raw materials, components, sub-components, and other material required for the product creation. This document enables product concept to become a tangible, touchable object. It's also why the BOM is a major pain point in manufacturing industry. Any error in creating the BOM leads to a massive loss and any risk of errors can be avoided perfectly with RPA robots.
Managing and Reporting Factory Records
Manufacturing companies have to deal with a wide range of process problems which pose a significant overload on the administration departments. In particular, some large manufacturers often have several factories in different parts of the world, a huge amount of data recording and task analysis. RPA robots will help the industry to record and manage these data more easily and efficiently and produce reports for further processing by management professionals.
Regulatory Compliance
From safety protocols to individual product regulations, regulatory compliance is a part of the industry. If a manufacturer has scripted its procedures in a way that complies with regulations and software enacts those procedures within the compliant parameters, then the risk of a regulatory breach disappears. RPA robots will collect and aggregate the latest regulation automatically and inform the administrative staff swiftly.
Integrating ERP Systems
Enterprise Resource Planning (ERP) systems are at the core of integrated back-office systems. ERP provides an integrated and continuously updated view of core business processes in such as Finance, HR, CRM, Supply Chain and so on. RPA robots will be linked to the ERP system and they can automatically generate these reports and send them via email or upload them in a share point folder.
Customer Support and Service Desk
When a customer calls into customer service, they speak with a representative who verifies the account and asks what the reason for the call is. Employees should navigate multiple systems while answering a single customer to access multiple data from multiple systems. RPA robots will automatically provide these data promptly and help the employees to give customized messages to each customer in no time.
Logistics & Inventory Management
Logistics & inventory management processes are the back-office procedures that can get very labor-intensive when executed manually. Inventory management ensures optimal volumes while tracking data along the way. In addition, when a company is having multiple carriers and multiple insurances, they must check which choice will give the best cost, insurance, and transit time. RPA robots can automatically ensure the optimal volumes, keep the latest tracking records, and offer the best carriers by accessing multiple sources of information and manipulating the aggregated data.
In summary
RPA will improve collaboration, inventory management, procurement, and order processing while enabling teams with data to manage and optimize the manufacturing production while reducing the operating cost. RPA can help manufacturers to monitor the latest regulation to avoid noncompliance with regulations locally and globally. In addition, RPA automation enhances the customers' satisfaction by boosting up the data collection to produce personalized responses and by reducing the waiting time.
About Laiye
Laiye, founded in 2015 by Ivy League Ph.D. graduates, is committed to being a leading Smart Robot platform with global influence in the era of human-robot collaboration. Our portfolio of high-quality, secure products and services covers RPA+AI Solution, including Laiye UiBot (An RPA product), Wulai (An enterprise chatbot platform), and Xiaolai (A companion robot). Join us on LinkedIn, follow us on Facebook, or visit us at laiye.com/en.